Fraud Prevention Tips – Archived
Fraud Prevention – Tip Of the Month

Monthly Fraud Prevention Facts
March 2018
February 2018
What will happen during my Annual Wellness Visit?

The Annual Wellness Visit is a yearly appointment with your provider to create or update a personalized prevention plan. Medicare Part B covers it if you have had Part B for over 12 months and you have not received an Annual Wellness Visit or your Welcome to Medicare Visit in the last 12 months. At your Annual Wellness Visit, your doctor may:
Check your height, weight, blood pressure, and otherroutinemeasurements
Give you a health risk assessment, which might include aquestionnaire that you complete before or during the visit
Review your functional ability and levelofsafety
Learn about your medical and familyhistory
Make a list of your current providers, durable medical equipment (DME) suppliers, and medications
Create a 5-10 year screening schedule orcheck-list
Identify risk factors and current medical and mental healthconditions along with related current or recommendedtreatments
Screen for cognitive impairment, including diseases such asAlzheimer's and other forms ofdementia
Screen fordepression
Provide health advice and referrals to health education and/orpreventive counseling services aimed at reducing risk factors and promoting wellness
The Annual Wellness Visit is not a head-to-toe physical!
Medicare Part B covers the Annual Wellness Visit with no cost-sharing, but depending on your visit, you may be responsible for paying a facility fee and cost-sharing on any diagnostic services you receive.
Be sure to specify that you want your Annual Wellness Visit when you make your appointment.Double specify when you check in for the appointment.
Annual Wellness Visits must be AT LEAST 12 full months apart.
If you feel you are billed for your Annual Wellness Visit in error, call the Wyoming Senior Medicare Patrol or Wyoming State Health Insurance Information Program for assistance.
January 2018
December 2017
Five Common Scams to Watch out for!
GRANDPARENT SCAMS Fraudsters claim your grandchild is in trouble and needs money to help with an emergency such as getting out of jail, paying a bill or leaving a foreign country. They prey on your emotions and trick you into wiring money.
IMPOSTER SCAMS Con artists pose as government agencies (IRS, *Medicare and Social Security) and get personal information from you, such as social security numbers, credit card info, etc.
SWEEPSTAKES/LOTTERY SCAMS Scammers require that you wire money (to pay for taxes or transaction fees) before receiving the prize money. Foreign lotteries are illegal.
ROBO CALLS/UNWANTED PHONE CALLS Computers can make thousands of calls per minute. If you answer the phone, it confirms that it's a working number, and they can then sell your number.
ID THEFT/MEDICARE FRAUD Fraudsters try and get your *Medicare/Social Security Numbers. Don't give out personal information to unsolicited callers.
*To Report Medicare Fraud: Contact the WYOMING SENIOR MEDICARE PATROL (SMP) at 800-856-4398
November 2017
Watch Out for These Attempts to Steal Your Medicare Number
Just walk away if people approach you in parking lots, shopping centers, or other public areas and offer free services, groceries, transportation, or other items in exchange for your Medicare number. Hang up the phone if someone calls you claiming to be conducting a health survey and asks for your Medicare number. Medicare won't contact you for your Medicare number or other personal information.
Don't give out your information to individuals who claim to be from Medicare or Social Security and ask for payment over the phone or Internet.
Don't become an unwitting participant by responding to television, Internet, or print adds offering "free" or "no out-of- pocket cost" medical services. Refuse delivery of mailed items you did not order. In general, you should coordinate your medical care through your primary care physician.
Report potential enrollment fraud and marketing violations
Contact your Senior Medicare Patrol (SMP) at 1 800 856-4398 if you feel a plan or agent has violated Medicare's marketing rules or if you think you were enrolled in a plan without your permission.
October 2017
Protecting Yourself from Enrollment Fraud
It is enrollment fraud if a plan agent or representative purposefully tricks you into enrolling in their plan, regardless of whether it is the right plan for you. They may do this by telling you misleading or false information to get you to enroll. Some may even enroll you without your knowledge.
Watch out for people who:

Tips for avoiding potential enrollment fraud:
Confirm what a plan agent tells you before making a final decision about a plan
Ask for everything in writing
Call your doctors to make sure they are in-network for the plan you want to join
Never provide your Medicare information to anyone but your trusted health care providers
Report potential enrollment fraud and marketing violations
Contact your Senior Medicare Patrol (SMP) at 1 800 856-4398 if you feel a plan or agent has violated Medicare's marketing rules or if you think you were enrolled in a plan without your permission.
September 2017
What Do You Mean, Outpatient? I Was In The Hospital…
When a Medicare beneficiary seeks treatment at a hospital and they are not admitted as an inpatient, they fall into outpatient status by default. Medicare rules require that the patient be informed of their outpatient status, and the reasons for it, within no more than 36 hours from the time of arrival or at time of discharge if that is sooner. This is done through a Medicare Outpatient Observation Notice (MOON). Why does this matter?
If the beneficiary is classified as "under observation" only as an outpatient, Medicare Part B is responsible.
The beneficiary, or their secondary insurance, will be required to pay Part B copayments and deductibles.
The cost of drugs "normally taken at home" aren't covered by Part B, so the beneficiary may have to pay out of pocket.
Medicare will cover the costs for a skilled nursing facility (SNF) only if the beneficiary has completed a minimum, medically necessary, 3-day inpatient stay.
In short, all Medicare beneficiaries admitted to a hospital should clarify their status by asking, "Am I an inpatient or an outpatient under observation?" It will save time down the road when billing questions arise.
PROTECT YOUR MEDICARE ID NUMBER
Medicare or your current health plan will NOT call you to confirm your ID number or your health plan number. If you get a call, especially from a number you do not recognize or anyone requesting personal information, hang up immediately. If you have questions about or want to report potential healthcare fraud, call the Wyoming Senior Medicare Patrol (SMP) at 1 800 856-4398 in Riverton, 1 877 634-1006 in Casper, or 1 877 634-1005 in Cheyenne.
July 2017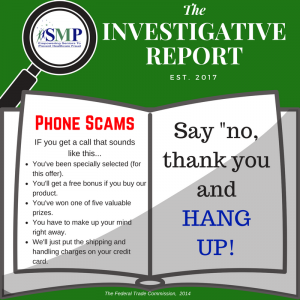 June 2017
Did You Receive a Letter from Social Security?
Here's What You Need to Know

You open your mail and find a letter saying you may be able to get help paying for the costs of Medicare. It appears to be from the Social Security Administration (SSA) …but is it for real? Or is this letter a scam?
Every year in May and June, SSA sends letters to people with Medicare who may be eligible for two money-saving programs that can help them afford their prescriptions and health care costs.
What are these money-saving programs?

The Medicare Part D Extra Help program (also known as the Part D Low Income Subsidy, or LIS) helps pay your Part D drug plan premium and saves you money on medications at the pharmacy. If you qualify for Extra Help, you will pay no more than $8.25 for your prescriptions for each drug your plan covers.
The Medicare Savings Program (MSP) pays your Part B premium each month. It also may help pay for other costs in Medicare, such as your Part B deductible and co-pays at the doctor's office.
Getting this letter does not mean you automatically qualify for these programs. You still need to fill out an application for each program. To get in-person help with an Extra Help/MSP application,
contact your State Health Insurance Assistance Program (SHIP) at (800) 856-4398. SHIPs are federally funded to provide free, objective assistance to people with Medicare and their families.
How do I know if other letters I receive are a scam?
Scammers are known to pose as agents of the federal government. If you receive a letter from Social Security and are not sure if it is real or not, call the Wyoming Senior Medicare Patrol (SMP) at (800) 856-4398. They will help verify its validity.
May 2017
Medicare Savings Programs (MSPs) pay, at a minimum, the monthly Medicare Part B premium. If your income is low enough, MSP's will pay your co-pays and deductibles. Your local Medicaid agency typically handles enrollment or you can call the Wyoming State Health Insurance Information Program (WSHIIP).
Contact your local Senior Medicare Patrol (SMP) for education and assistance regarding suspected Medicare fraud, errors, or abuse. For example, contact your local SMP if an insurance company or broker promises to enroll you in a cost-assistance program but only if you enroll in a specific plan and you agree to provide personal or financial information.
Contact your Senior Medicare Patrol (SMP) program in Wyoming at 1 (800) 856-4398 for assistance.
April 2017
Eligible for Medicare and Already Have Employee Coverage?
If your current employee insurance is supposed to pay primary, there are certain things that the employer and the plan cannot do.
Once you are eligible for Medicare, the employer cannot
Offer different coverage
Refuse coverage
Restrict coverage
The employer-based plan cannot
Charge you more for your premium, deductible, coinsurance charges, or copays on the employer plan
Give you misleading information to get you to disenroll in the employer plan
End your employer coverage because you are eligible for Medicare
Contact your Senior Medicare Patrol (SMP) program in Wyoming at 1 (800) 856-4398 for assistance.
March 2017
In recent years, beneficiaries often contacted SMP with potential billing errors involving Self Administered Drugs (SAD). SAD are medications given to a Medicare beneficiary in a hospital and are defined as medications normally taken at home by most patients. Such situations often occur when a patient is in the ER, or is in the hospital under observation status. This becomes a billing "error" when other drugs (i.e. anesthesia, injections) are incorrectly billed to Medicare as SAD. Such claims are then denied and are billed to the patient.
An additional requirement took effect on March 8, 2017. When a beneficiary is under observation status for more than 24 hours, their status and the SAD implications must be explained to them in plain language before 36 hours has passed. The patient or representative must sign the standardized form (Medicare Outpatient Observation Notice, MOON) with the reason for the observation status inserted.
If you are billed for drugs that are not normally taken at home during a hospital visit, or you are billed for SAD and not notified of an "under observation" stay, please call your Wyoming Senior Medicare Patrol at Wyoming Senior Citizens, Inc. at 1 800 856-4398.
February 2017
What's New with Medicare – 2017
Point 1: Understand your Part B premium costs in 2017
Most people with Medicare pay a monthly premium for Part B. In 2017, the Part B premium is not the same for everyone. The base premium is $134 per month, but most people will pay a lower amount in 2017 because they are protected by something called the hold harmless provision. You will pay the lower premium if:
· You were entitled to Social Security benefits for November and December of 2016, and
· The Part B premium was or will be deducted from those benefits for November 2016 through January 2017.
If you meet these guidelines to pay the lower premium, your 2017 premium will be higher than it was in 2016 by the same amount as your Social Security Cost of Living Adjustment. In 2017, this adjustment is 0.3%. The average Part B premium for those protected by hold harmless is $109, but your premium may be higher or lower. To learn your amount, check your Social Security statement or contact the Social Security Administration at 800-772-1213.
Point 2: Understand your Part B deductible and coinsurance costs in 2017.
If you have Original Medicare, you will pay an annual Part B deductible of $183 in 2017, up from $166 last year. You will continue to pay a 20% coinsurance amount for most services covered by Part B. The amount you pay for Medicare Advantage Plan deductibles, copayments, and/or coinsurances varies by plan.
Point 3: Review your Medicare Part D costs, benefits, and any changes in 2017.
The national average for Part D premiums in 2017 is $35.63. Your other monthly drug costs may vary based on your plan and which coverage period you are in. Let me explain:
· No plan's deductible in 2017 can be higher than $400.
· You will pay a portion of the cost of your drugs and your plan will pay the rest until you have accumulated $3,700 in total drug costs for most plans in 2017. This is when you l enter what is called either the donut hole or the coverage gap.
· During the donut hole, your plan does not pay as much for your drugs, so your out-of-pocket costs will often be higher. For most plans in 2017, the donut hole ends when you have spent $4,950 out of pocket on covered drugs. By the way, your premium costs do not count toward this amount.
· After leaving the donut hole, you pay 5% of the cost of each drug, or $3.30 for generics and $8.25 for brand-name drugs—whichever is greater.
If –
you have bills from providers, Medicare, Medigap insurers, or pharmacies that seem at odds with this information, or
you think your 2017 coverage was changed without your knowledge or consent
January 2017
Your 2017 New Year's Resolution
Make it count this year!
· Forget breaking a habit
· No exercise required
· Skip the diet
Your One & ONLY Resolution is: Check your Medicare Summary Notice (MSN)!
Review your MSN for errors, fraud, and abuse:
· Services, supplies, or equipment not provided
· Improper coding to obtain higher payment
· Billing for excessive medical supplies
REPORT Medicare Errors, Fraud, and Abuse to the Wyoming Senior Medicare Patrol at 1 (800) 856-4398
December 2016
Medicare Cards
Beneficiaries will not see their new Medicare cards before April 2018. That is the earliest month CMS has said they will start mailing new cards to beneficiaries. The new Medicare card will have a completely new and randomly assigned identifier that will be a mix of numbers and letters, 11 characters long. The change to this new card will not change people's Medicare benefits. Your benefits will stay the same.
Those are the facts. So how could a scammer use this change to take your personal information? This change has caused confusion, and scammers love to take advantage of confusion. We have heard reports of scammers pretending to call from Medicare asking for your current Medicare number in order to send you a new card. The fact is that Medicare already has this information, including you mailing address. When CMS sends a new Medicare card, they will mail it to you.
If you get a call like this, you now have the facts to call out the scammer. Do not give out your information. Report calls like this to the Wyoming SMP at Wyoming Senior Citizens, Inc. (800)699-9043.
November 2016
Medigap Plans
A Medigap policy is a standardized supplemental health insurance that pays for part or all of the Original Medicare cost-sharing gaps that you owe. You may hear Medigaps referred to as Medicare supplements, supplemental health insurance, or secondary plans. The costs that Medigaps cover include deductibles, coinsurance amounts, and copays. If you need more information, call the Wyoming State Health Insurance Information Program at 1 800 856-4398. You should also know that if you already have a Medigap plan, and it's an "F" or "G" plan, you should only receive a bill from your provider if you receive a non-covered by Medicare service. If you have questions, call your Senior Medicare Patrol at 1 800 856-4398.
You can enroll in a Medigap plan at any time, but you have a Guaranteed Issue Right (no medical underwriting) for 6 months beginning when you are 65 and have Medicare Part B. You may also have a Guaranteed Issue Right if:
You're in a Medicare Advantage Plan, and your plan is leaving Medicare or stops giving care in your area, or you move out of the plan's service area.
You have Original Medicare and an employer group health plan (including retiree or COBRA coverage) or union coverage that pays after Medicare pays and that plan is ending.
You joined a Medicare Advantage Plan or Programs of All-inclusive Care for the Elderly (PACE) when you were first eligible for Medicare Part A at 65, and within the first year of joining, you decide you want to switch to Original Medicare.
You dropped a Medigap policy to join a Medicare Advantage Plan for the first time, you've been in the plan less than a year, and you want to switch back.
Your Medigap insurance company goes bankrupt and you lose your coverage, or your Medigap policy coverage otherwise ends through no fault of your own.
You leave a Medicare Advantage Plan or drop a Medigap policy because the company hasn't followed the rules, or it misled you.
It is important to know that Medigap policies only work with Original Medicare Parts A and B. If you get your Medicare benefits from a private Medicare plan, known as a Medicare Advantage Plan, you cannot purchase a Medigap. Medigaps only pay for Original Medicare cost-sharing gaps. In fact, if you already have a Medicare Advantage Plan, it is illegal for anyone to sell you a Medigap policy unless you are switching back to Original Medicare. Contact your Senior Medicare Patrol at 1 800 856-4398 if you experience suspicious of Medigap sales practices.
September/October 2016
Things you should know if you need Ambulance Transportation
· Ambulance Transportation is only covered when other transportation would be dangerous to the your health.
· You have the right to choose the ambulance service.
· Non-emergency transport can be very costly to you.
· By signing the Advanced Beneficiary Notice anything not covered by Medicare will be billed to YOU.
· Check your Medicare Summary Notice. This statement from Medicare lists everything that Medicare paid for you. Look at the Part B section. Make sure Medicare only paid for services you actually received. Call us at 1 800 856-4398 if you need help reading your statement. We can help you make sure there are no mistakes.
August 2016
Balance Billing of Medicare AND Medicaid Beneficiaries
If you are a "Qualified Medicare Beneficiary" (65 and older or disabled with low income, generally less than $1,010 a month for an individual or $1,355 for a married couple), you should not be billed by your provider for any balance remaining after Medicare and Medicaid pays. Federal officials have warned doctors that they may be subject to penalties if they persist in billing such individuals. They could, for example, be fined or excluded from Medicare. Federal law says that such beneficiaries do not have "any legal liability to make payment" to a doctor or a hospital beyond the amounts paid by Medicare and Medicaid. Doctors "must accept the Medicare payment and Medicaid payment (if any) as payment in full for services rendered to a qualified Medicare beneficiary." For more information or assistance with a specific issue, please call the WY SMP at 1 (800) 856-4398.
July 2016
How to Avoid Being Scammed
Never
Sign a blank form you don't fully understand.
Be pressured to make fast decisions.
Provide personal information (address, date-of-birth, banking information, ID numbers) to people you do not know/didn't contact.
Send money by wire transfer or prepaid debit card to someone you don't know/haven't met in person.
Send money for an emergency situation unless you can verify the emergency.
Click on links from unsolicited email or text messages.
Always
Ask questions until you feel informed.
Keep accurate notes of what is being discussed & who you're talking to.
Take time to research the organization. Ask (and wait) for written material before making a decision.
Call a trusted friend/family member to discuss any doubts.
Report to law enforcement & SMP at 1 (800) 856-4398!
June 2016
Ok, here we go!
Having your own account on MyMedicare.gov will allow you to view your Medicare Summary Notices much sooner. You will not have to wait until they arrive in the mail up to 3 months later. If someone else is using your number, or if a fraudulent provider is using your number to bill Medicare, you will be able to see that almost immediately.
5 Easy Steps to MyMedicare.govà
Go to: https://www.mymedicare.gov
Click on "Create an Account"
Complete Registration Form. Your personal information will be secure.
Create your username and Password.
Record in a safe place.
The Centers for Medicare and Medicaid Services (CMS) will send you a confirmation via email. Remember to always "sign out" before you leave the website! If you discover an error, fraud, or abuse, call SMP at 800 856-4398!
May 2016
The mission of the Senior Medicare Patrol is to assist Medicare beneficiaries, their families, and caregivers to prevent, detect, and report health care fraud, errors, and abuse through outreach, counseling, and education.
Prevent! Protect your numbers.
· Never give your Medicare number to anyone you don't know
· Don't carry your card with you unless you are going to the doctor
· Treat it like a credit card
· Beware of offers for free services in exchange for your Medicare number
Detect! Watch your statements for Medicare fraud, errors & abuse
· Record doctors visits, tests and prescriptions in a health care journal or calendar
· Review your Medicare Summary Notice and compare it to your records. Look for double billing, services not done by your doctor, doctors you don't know
· Set up a personal account at www.mymedicare.gov to view your Medicare records online 24/7
Report! This is your money. Don't lose it!
· Call your provider or insurance plan and ask for an explanation.
· If you aren't happy with their answer or aren't comfortable contacting them, call the Senior Medicare Patrol at 1-800-856-4398
April 2016
Medicare Summary Notice (MSN): A summary of claims made by Original Medicare for health care services processed for you during the previous three months. The MSN is not a bill. MSNs are mailed four times a year and contain information about submitted charges, the amount Medicare paid, and the amount you are responsible for. You should not be billed for any amount over what you are responsible for.
To understand your MSN:
Read the definitions and descriptions of services carefully.
Check the notes section. This is where Medicare may further explain its payment decisions or give you other important information.
If a service you received is not covered, you should consider filing an appeal. Instructions and deadlines regarding appeals will be on the final page of your MSN, titled "How to Handle Denied Claims or File an Appeal."
If you or someone you know comes across such hospice scams, call the Senior Medicare Patrol at
1-800-856-4398. Thank you!
March 2016
Medicare Summary Notice (MSN): A summary of claims made by Original Medicare for health care services processed for you during the previous three months. The MSN is not a bill. MSNs are mailed four times a year and contain information about submitted charges, the amount Medicare paid, and the amount you are responsible for. You should not be billed for any amount over what you are responsible for.
To understand your MSN:
Read the definitions and descriptions of services carefully.
Check the notes section. This is where Medicare may further explain its payment decisions or give you other important information.
If a service you received is not covered, you should consider filing an appeal. Instructions and deadlines regarding appeals will be on the final page of your MSN, titled "How to Handle Denied Claims or File an Appeal."
If you are unsure of anything on your MSN, or on a bill, call Wyoming SMP at (307) 856-6880 or (800) 856-4398
February 2016:
Beware of Fraudulent Hospice Enrollments
California is getting numerous reports about a hospice company that is giving presentations and visiting seniors at their home, and enrolling them into hospice even though they do not have a terminal illness with 6 months or less to live. The hospice company misleads people into enrolling in hospice by offering beneficiaries housekeeping, home health, nurse visits, durable medical equipment and/or medications for "free". The hospice company is claiming they are a different branch of hospice and that services are covered by Medicare through "Obama Care".
Some things to watch for:
Beware of hospice companies enrolling patients who do not have a terminal illness with 6 months or less to live.
Beware of people who say they know how to get Medicare to pay for something. Medicare pays for services and items based on medical necessity — meaning a service or item you really need for your medical condition.
January 2016 (Happy New Year):
Does the term MSN mean anything to you? If you are on Original Medicare, it should. The letters MSN stand for Medicare Summary Notice, the form that Medicare sends every three months for Part A and Part B-covered services. The MSN shows all your services or supplies that providers and suppliers billed to Medicare during the three-month period, what Medicare paid, and the maximum amount you may owe the provider. This information can help you figure out if someone is billing Medicare for a service you did NOT receive.
Now this same information is available to you online. You may choose to receive an electronic MSN instead of the paper copies. With the eMSN, you can get the information monthly instead of quarterly. You can see your claims anywhere and anytime you have access to the Internet. All you need to do is set up an account (very easy) at MyMedicare.gov, then sign into Medicare.gov with the username and password you have created. The eMSN cannot get lost or stolen in the mail.
The eMSN means you will be able to check your claims and spot billing errors more quickly. If you find and report errors, Medicare can act on the information sooner, stop payment, and go after the bad guys. If just 7 percent of people on Medicare opted for eMSN's, the federal government could save $44 million in just five years.
Whether you sign up for the electronic MSN or get the paper copy in the mail, always pay attention to the information on them. They will tell you how much Medicare has paid each provider for each service. If you believe that Medicare was billed for a service or product you did not receive, you may question your provider first, and then call Medicare for help. Call the Wyoming SMP – the Senior Medicare Patrol –at (800) 856-4398 if you suspect you are the victim of Medicare fraud or abuse.
December 2015:

'Twas a Night of Fraud Safety
'Twas a night of fraud safety, when all I could see
Were bright tips for prevention from our SMP:
My Medicare card was all snug in its place
Safe at home where it couldn't be seen – "just in case,"
But my Safe Card was ready; I'd not go without
Peace of mind, with those first numbers safely cut out!
Though I'd never deface my real Medicare Card,
My Safe Card's in plastic – and that wasn't hard:
I just asked, "My good man; will you laminate, please?"
And he sealed up my Safe Card in plastic, with ease!
So, contented, I gazed 'neath my twinkling tree
And I grinned, knowing what was there waiting for me:
My brand new MSN! It just came in the mail!
(Though "MyMedicare.gov" could have told me the tale),
But I love to peruse, with a critical eye,
Paper billings for errors that I just might spy.
With my warm fire crack'ling, I poured me some tea,
And this statement I grabbed to see what I could see.
Thus, while visions of healthcare bills danced in my head,
All the sudden, one item just filled me with dread:
Colonoscopy bill? Are you kidding? Oh no!
Whose was THAT? Wasn't MINE! Nope, I sure didn't go
For THAT test: after all, I'd just had one in May!
Not my bill! Not my doctor! We're NOT gonna pay;
Neither Medicare nor I are shelling out dough
For a non-rendered service for which we don't owe!
Was it error – or fraud? Well, I wasn't quite sure,
But I couldn't just sit here, not one minute more,
So I leapt up and paced and I fretted and stressed
As I thought about what course of action was best.
Then I heard a great "wooshing", and bells in the air;
From the chimney a voice called, "Got problems down there?"
Somewhat shocked, I called back: "Santa? I've got an issue:
This MSN's making me sob in my tissue,
'Cause I'm being billed for what I never got;
Could you come down and help me? I'm really distraught!"
But he answered, "I'm pretty tied up…but don't stew!
Just calm down, and remember what you need to do!
You just call that provider and tell them the deal,
And insist that they fix it…but then, if you feel
That they're pulling a fast one, you STILL hold the key
To get all this resolved: YOU JUST CALL SMP!
'Cause you know they're persistent in finding what's true:
They can help save your money and Medicare's, too!"
He continued, "It's my busy night, as you know
And I've more stops to make, so I really must go,
But you heed what I say; you're empowered, you see,
To fight Medicare fraud when you've got SMP!"
And with that he was off; Santa took to the air
And my pulse started slowing, through his words of care,
But I suddenly hollered, in frantic pursuit:
"Oh, wait, Santa! Come back! You forgot all my loot!"
The Wyoming SMP can be reached at 1 (800) 856-4398
Created by the Delaware SMP
November 2015:
Medicare Marketing Violations:
Because of Medicare's Annual Enrollment Period (which runs from October 15 to December 7), Medicare beneficiaries began receiving marketing materials October 1st. Some Medicare Plan representatives have attempted to visit residents at senior housing complexes as a quick way of reaching a large number of people. The result: The possibility of Medicare beneficiaries being enrolled in plans that do not meet their needs.

Medicare rules do not allow door-to-door sales. Plan representatives are allowed to contact their existing members to discuss plans, but still cannot visit without being invited.
October 2015: Medicare Fraud Video
September 2015
Offers of Discount Plans and Cards

SMPs get reports from beneficiaries that they were solicited to subscribe to a prescription drug discount card. These cards, though widely available, are a controversial subject. The question of their legality and benefit arises often. The Federal Trade Commission (FTC) places prescription drug discount cards in the same category as medical discount plans. They are legal, as long as marketing them does not involve deception or theft. Are they beneficial, however? It depends. Below is a list of common pros and cons raised about prescription drug discount cards.
Pros:
Can save a beneficiary money on prescriptions if they are in the Part D "donut hole."
Some are offered by trusted organizations at no cost.
Cons:
Can delay exiting the Part D donut hole.
Some companies use dubious marketing tactics, raising concerns about legality.
Some are scams.
The rules for the cards can be confusing.
Some charge fees.
They may not offer a true benefit. For example, they may not be accepted at all pharmacies.
August 2015: Durable Medical Equipment
Durable medical equipment (DME) is equipment that helps you complete your activities of daily living. Wheelchairs, walkers, and home oxygen equipment are some examples of Medicare-approved DME. Most people need some kind of DME at least once during their lives. There are a few steps Medicare beneficiaries need to take when in need of equipment and supplies:
1) Visit your doctor to obtain a prescription that certifies your need to use DME.
2) Contact Medicare or your Medicare Advantage Plan to find out the rules and costs for getting DME.
3) If you have Original Medicare, go online to www.medicare.gov/supplier to find a list of suppliers who provide your equipment. If you have a Medicare Advantage Plan, call your plan to ask for a list of in-network DME suppliers in your area.
4) If you want one-on-one assistance and counseling regarding Medicare coverage of DME, contact your State Health Insurance Program (SHIP) at 1 (800) 856-4398.
5) Report violations of the DME marketing rules and potential fraud to your Senior Medicare Patrol (SMP) at 1 (800) 856-4398.
July: Medicaid fraud, from the Office of Inspector General (OIG), U.S. Department of Health & Human Services
Providing mental health services in outpatient clinics saves the government and taxpayers a tremendous amount of money. It also allows the patient to return home at night. However, some outpatient mental health centers are scamming the system.
How the Scam Works

In the typical scenario, patients are brought into the system to receive "treatment." They arrive at the clinic each day, but instead of receiving treatment they play games or watch TV all day. Then the clinic bills the Medicaid program for "therapy" that was never provided.
How to Fight Back

If you have a family member receiving this kind of outpatient mental health treatment, make sure they are actually receiving counseling. Ask your family member what they did, and make sure they are actually receiving some kind of therapy.
June: The new "DOC FIX" law and how it affects Medicare fraud fighting efforts
For many years people have complained that having one's Social Security number on his or her Medicare card was an invitation for fraud and identify theft. In April, President Obama signed a Congressional Bill into law, banning Social Security numbers from being used on new and current Medicare cards. The Secretary of Health and Human Services has been instructed to make this change for all new Medicare enrollees within the next four years and all Medicare beneficiaries within eight years. By 2025, 74 million people will have Medicare.
While you wait for the safer Medicare ID card, beware of callers that pretend to be from Medicare or another agency and ask for your Medicare number to make sure you get your new card. Just say NO and hang up! Don't fall for calls, postcards, commercials or emails that offer to help you get your new Medicare card. Tell everyone you know, who is or will soon be on Medicare, about the upcoming change and the potential for scammers to use this opportunity to steal YOUR information. Remember, only YOU can prevent Medicare fraud!
May: Equipment and supplies
Guidelines are in place to limit the ability of providers and suppliers to market equipment and supplies (walkers, knee/back braces, scooters, oxygen, catheters, test strips, etc.) directly to Medicare beneficiaries. These marketing guidelines prohibit unsolicited direct contact with beneficiaries. Marketing of Medicare-covered items can only take place under one or more of the following three circumstances:
The beneficiary has given written permission to be contacted
The supplier is contacting the beneficiary about an item that has already been provided
The supplier has furnished one Medicare-covered item within the previous 15 months to that beneficiary.
April: Beware of callers that say anything about Medicare changes . . .
. . . because the Medicare program does change over time, scam artists recycle old strategies to fit the changing health care environment. In this scam, individuals call or visit to explain Medicare "changes," then proceed to request personal identifying information. It can occur in conjunction with the Medicare card or Obamacare scam. Like the Medicare card and Obamacare scams, this scam uses a trusted and valued program – Medicare – to gain unauthorized access to beneficiary information. Remember, it's okay to say "Goodbye" and JUST HANG UP.
It is important to know that beneficiaries may be legitimately contacted by the Centers for Medicare & Medicaid Services (CMS) or CMS representatives as part of occasional "Medicare Current Beneficiary Surveys." However, if they are going to do that, you will receive advance notice in the mail and you should always ask for their ID. CMS may also call or otherwise contact beneficiaries to resolve beneficiary complaints or investigate suspected fraud.
March: Medicare's ambulance benefit is frequently misunderstood.
SMPs commonly receive complaints about ambulance services that cover the entire range of suspected fraud, errors, and abuse. Sometimes providers bill beneficiaries or their families directly rather than billing Medicare and the beneficiaries wonder why. Sometimes beneficiaries are seen being transported by ambulance when the trip doesn't seem medically necessary and bystanders suspect fraud or abuse. At other times, Medicare denies coverage of an ambulance ride and beneficiaries wonder why their trip wasn't covered.
Ambulance Fraud Schemes

Falsification of documentation to provide the appearance of medical necessity, when medical necessity did not exist
Billing for more miles than traveled for transport
Billing nonemergency trips as emergency trips
Billing the beneficiary instead of Medicare, if the provider participates in Medicare and the trip met Medicare's coverage criteria
February: Don't throw that Medicare statement away! Use it to make sure your Medicare number is not being used by crooks and scam artists!
What Is a Medicare Summary Notice?
The Medicare Summary Notice, also called an MSN, is a report of doctor visits, services or supplies billed to Medicare in your name. The MSN explains the charges that will be paid by Medicare and those that will be paid by you or other insurance (like Medigap or employer insurance). MSNs are mailed to people enrolled in Medicare Part A and/or Part B. The MSN states in large print that it is NOT a bill.
You Can Use Your MSN to Detect Errors, Fraud, and Abuse
Compare the charges on your MSN to your recent office visits and supply purchases. Did you have an appointment on that day? Did you purchase a glucose monitor? What about that lab test . . . did you have blood drawn? Since Medicare only mails MSNs every three months, you may want to visit MyMedicare.gov and register for access to Medicare's free, secure online service. A MyMedicare account will allow you to review all bills processed within the past 36 months. Wyoming SMP will help you sort it all out if you suspect something is not quite right. If you want to make an appointment, or just have a question, please call one of our offices in Riverton, Cheyenne, or Casper.
Report Suspected Fraud

To report suspected fraud, call the Wyoming Senior Medicare Patrol at 1 (800) 856-4398, send an email to smpmgr@wyoming.com, or stop by your Wyoming Senior Citizens, Inc. office in Riverton, Casper, or Cheyenne. Addresses are listed on our website at http://www.wyomingseniors.com/wsci-locations-contact-information.