WYOMING SENIOR CITIZENS, INC. (WSCI) founded in 1975 is a private, nonprofit organization whose purpose is to meet the needs of Wyoming's older residents and help them maintain their independence.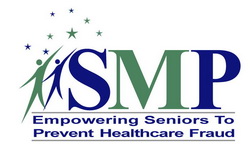 Senior Medicare Patrols (SMPs) empower and assist Medicare beneficiaries, their families, and caregivers to prevent, detect, and report health care fraud, errors, and abuse through outreach, counseling, and education. SMPs are grant-funded projects of the federal U.S. Department of Health and Human Services (HHS), U.S. Administration for Community Living (ACL).
The Wyoming SMP program works in three main areas::
Conduct Outreach and Education. Wyoming SMP staff give presentations to groups, exhibit at events, and work one-on-one with Medicare beneficiaries.
Engage Volunteers. Protecting older persons' health, finances, and medical identity while saving precious Medicare dollars is a cause that attracts civic-minded Americans. The Wyoming SMP program engages over 50 team members across the state who collectively contribute more than 1,000 hours to SMP each year.
Receive Beneficiary Complaints. When Medicare beneficiaries, caregivers, and family members bring their complaints to the Wyoming SMP, the SMP makes a determination about whether or not fraud, errors, or abuse is suspected. When fraud or abuse is suspected, they make referrals to the appropriate state and federal agencies for further investigation. When errors exist, they work with the parties involved to resolve the problem.
History
SMPs are discretionary grant projects funded by the U.S. Administration for Community Living (ACL). ACL is headed by the Assistant Secretary on Aging, who is appointed by the president and serves under the U.S. Secretary for Health and Human Services. Every three years, ACL issues a new request for proposals for the SMP program and then competitively awards grants to a selected project in each of the 50 states, the District of Columbia, Guam, and Puerto Rico.
Contact the Wyoming hotline at 1-800-856-4398 if you would like to become a volunteer or if you have questions or concerns related to Medicare errors, fraud, or abuse.
If you have questions about what constitutes Medicare errors, fraud, or abuse, refer to the national SMP website at http://www.smpresource.org/Content/Medicare-Fraud.aspx
FOR MORE INFORMATION CONTACT:
Sandy Goodman, SMP Program Manager (smpmgr@wyoming.com)
Nick Biltoft, SMP Program Coordinator (smpcoorriv@wyoming.com)
Steve Dodson, WSHIIP Program Manager/SMP Program Coordinator (wshiipmgr@wyoming.com)
106 West Adams Ave.
P.O. Box BD
Riverton, WY  82501
1-307-856-6880
1-800-856-4398
Fax: 1-307-856-4466
Cathy Carlisle, WSHIIP/SMP Program Coordinator (wshiipchy@wyoming.com)
3120 Old Faithful Road, Suite 200
Cheyenne, WY  82001
1-307-634-1010
1-877-634-1005
Fax: 1-307-634-0903
Peg Thew, WSHIIP/SMP Program Coordinator (caswshiip@wyoming.com)
951 Werner Ct., Suite 295
Casper, WY  82601
1-307-235-5959
1-877-634-1006
Fax: 1-307-235-5960
YOU CAN HELP SAVE MEDICARE!
QUESTIONS OR CONCERNS ABOUT YOUR MEDICAL BILLS?
CALL US TODAY!!
Senior Medicare Patrol
1-800-856-4398